Moderators: greg, Daniel Jackson
HEY ALL...I'M NEW TO THE SITE AND HAVE KEPT LOW PROFILE

Posts: 3030
Joined: Sun Aug 15, 2004 12:13:37 am
Valiant fan since: inception
Location: New York
Hey Guys...

I guess you have noticed I haven't been on the boards as much...only to answer pm's and questions about the x-o project...

I want to give this gift to all of you..as a Thanks to all the support I have rcvd from all you guys..

This project was originally intended for the 2006 show and has been on the shelf for a while...

It was my way of incorporating the 9/11 tragedy, in which a few of my friends passed away in, and my love of the Valiant characters..

I'll be posting the pages from the first part of the story I wrote over the next few hours....

So..here I go...in Memory of all those souls lost in the 9/11 tragedy...
---
HEY ALL...I'M NEW TO THE SITE AND HAVE KEPT LOW PROFILE

Posts: 3030
Joined: Sun Aug 15, 2004 12:13:37 am
Valiant fan since: inception
Location: New York
wraparound cover to story...
on the cover Thanks to:
Anthony "MAC-nificent" Castrillo for the original layouts and Sting
Mike "the madman" McGuire for the colors
Rags Morales on Turok
Joe St. Pierre on Rai
Charles Barnett III on Shadowman
Bernard Chang on Bloodshot
Sean "Travis's Dad" Chen on Solar...(who else)
Bob "the Man" Layton on X-O Manowar
Yvel Guichet on Eternal Warrior
Jim Calafiore on Magnus
background scene by Sean Chen..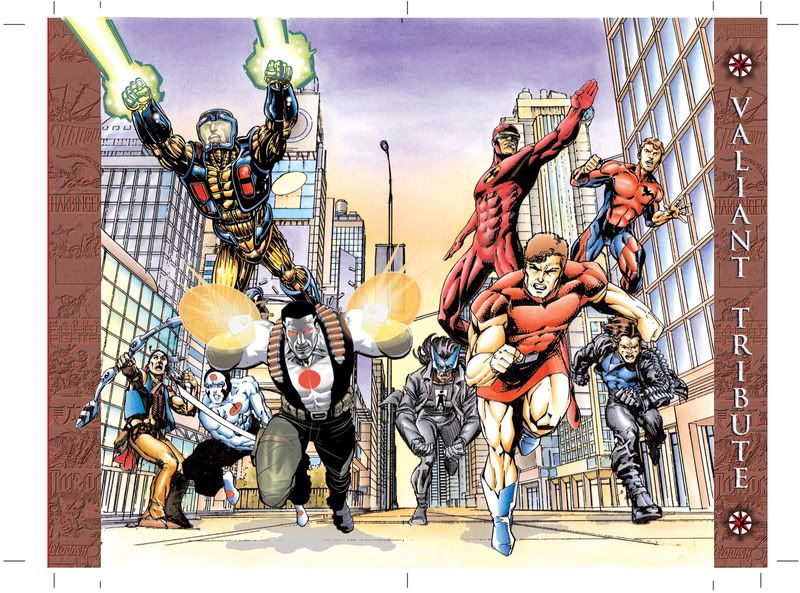 ---
HEY ALL...I'M NEW TO THE SITE AND HAVE KEPT LOW PROFILE

Posts: 3030
Joined: Sun Aug 15, 2004 12:13:37 am
Valiant fan since: inception
Location: New York
---
---
---
---
---
HEY ALL...I'M NEW TO THE SITE AND HAVE KEPT LOW PROFILE

Posts: 3030
Joined: Sun Aug 15, 2004 12:13:37 am
Valiant fan since: inception
Location: New York
---
A toast to the return of Valiant!

Posts: 38006
Joined: Mon Jun 21, 2004 8:33:38 pm
---
---
---