Moderators: greg, Daniel Jackson
Major Valiant-supporting retailer

Posts: 2867
Joined: Thu Aug 03, 2006 7:21:07 pm
Valiant fan since: 1994
Favorite character: X-O Manowar
Favorite title: X-O Manowar, Unity
Favorite writer: Matt Kindt
Favorite artist: Bart Sears
Location: Winnetka, CA
Contact:
Personal GRAIL achieved. So, a short story. I met with Dinesh and Andy Liegl for drinks in downtown LA, before Matt Kindt's X-O #1 was announced, to discuss how I was going to be involved in making it what it became, the biggest indie release of that time. Dinesh showed me a cover to the first issue and I screamed "Call Lewis, I want this NO MATTER WHAT!" to which he replied, SORRY, Jesse Izdepski beat you to it. To say that I cursed Jesse out right there at the table is an understatement of the week. Later I congratulated him on what I think is the most iconic X-O cover of all time, and made him promise that if he EVER EVER wanted to part with it, I would get first dibs. Well, this week, that time has come. Thank you, Jesse, for being a stand up guy, I owe you one for sure. My collection is probably complete for now, I don't see myself buying anything better than this. There are a couple of covers that I am on the lookout for but between this one and Mike Choi's amazing cover that I also got from Jesse, I am super content to make it a day.
BTW, that meeting resulted in something truly special, the one and still only retailer edition with exclusive content inside the book, plus a metal signature plate, which was produced by valiant, and is still one of the rarest things VEI has ever produced (30, I believe) with our exclusive cover on it. I own 2 of those. It was also the single biggest buy of a comic book in my 26 year history and was a pretty sizable percentage of the total print run on that book. I now own the Cover A and my Exclusive cover, so I am good!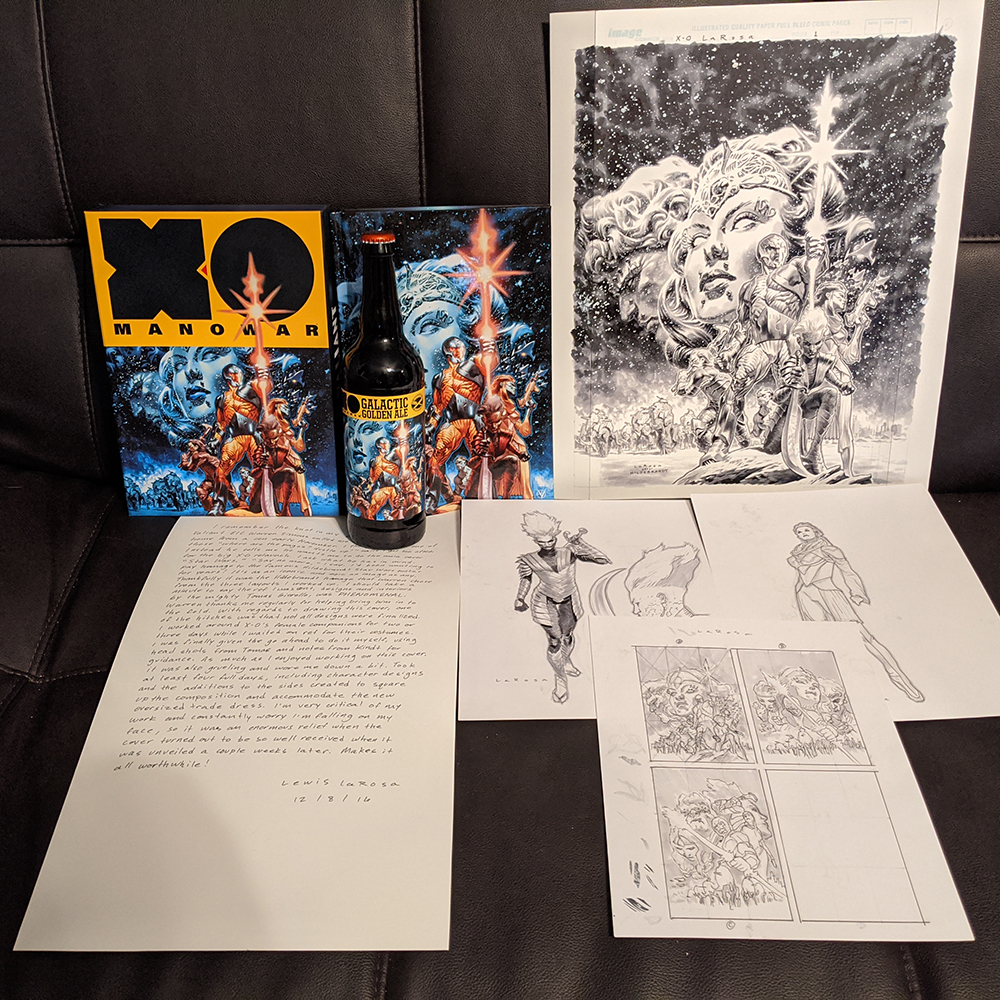 Edward
COLLECTOR'S PARADISE Stores:
(Canoga Park, Pasadena, North Hollywood)
7131 Winnetka Ave - Canoga Park, CA - 91306
- 818-999-9455
319 S. Arroyo Parkway - Pasadena, CA - 91105
- 626-577-6694
5118 Lankershim Blvd - NoHo, CA - 91601
- 818-980-BOOK
http://ComicsAndCards.net
---
Reading posts like this makes me happy. Well done both of you.

/Magnus
---
Cruisin' in Darpan's Winnebago

Posts: 693
Joined: Sun Mar 24, 2013 9:38:02 pm
Valiant fan since: 1993
Favorite character: TOYO HARADA
Favorite title: HARBINGER
Favorite writer: Joshua Dysart
Favorite artist: Clayton Henry
Wow, fantastic addition! And Jessie does a great job capturing and documenting its creation, glad to see he passed along those process artifacts!
---
Especially "dude." And "balls." Those terms work in the tech industry.

Posts: 6785
Joined: Tue Sep 25, 2012 12:38:36 am
Valiant fan since: Solar #1
Favorite character: Rai
Favorite title: Toyo Harada
Location: Seattle
Congrats to you both! It's definitely a beautiful piece!
---
innerSPACE does whatever I tell them

Posts: 7799
Joined: Mon Jun 18, 2012 6:51:43 am
Valiant fan since: 1991
Favorite character: Aric
Favorite title: Harbinger
Location: On the 7.5th floor of LesterCorp, headed through the back door to John Malkovich's brain.


I'm amazed that DBS let go of that!
---
The admin around here must be getting old and soft.

Posts: 22502
Joined: Wed Feb 04, 2004 9:39:27 am
Valiant fan since: Rai #0
Favorite character: Depends on title
Favorite title: Depends on writer
Favorite writer: Depends on artist
Favorite artist: Depends on character
Location: Indoors
Contact:
Very cool!

---
Those responsible for those remarks have been sacked.

Posts: 4301
Joined: Thu Jan 24, 2008 4:07:56 pm
Valiant fan since: 1992
Favorite character: Vincent the Goat!
Favorite title: All of them!
Location: Woods of Southeastern NC
That is fantastically awesome sauce!!!!
***Support your local farmers!***
---
Ask me about the Mellow Mushroom

Posts: 3724
Joined: Thu Sep 23, 2004 4:14:44 pm
Valiant fan since: 1992
Favorite character: Magnus Robot Fighter
Favorite title: Shadowman
Favorite writer: Jim Shooter
Favorite artist: Jim Calafiore
Location: Japan
Congrats. That is one awesome cover.
---
---
H.A.R.D.E.R. Corps, with Extra Resistance

Posts: 1047
Joined: Wed Feb 04, 2004 11:01:47 am
Valiant fan since: 1991
Favorite character: Solar, Magnus
Favorite title: VEI Harbinger
Location: Frisco, TX
Wow, what a great catch. Congrats!
---
---