Moderators: greg, Daniel Jackson
Chapa Zero in Portuguese translated to English would be Chapa Zero.

Posts: 3680
Joined: Thu Aug 02, 2012 3:06:13 am
Valiant fan since: 2012
Location: Lisboa, Portugal
Hey guys, just wanted to share this bit of news, of sorts- BI Magazine is doing a creator-owned comics' special issue coming this next February, and Matt Wagner's creations get cover treatment.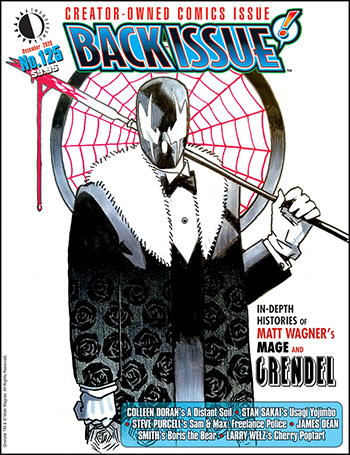 I might be wrong on this, but is the cover an original piece? Never saw it, iirc.
On another topic: anyone here still reading Odyssey? I know that it had a weird reschedule thing, and I have no idea when issue 5 will pop, but so far... it's a fun comic, looks good in all ways possible, but I'm just not "Loving" it, as I did with everything Grendel, minus some of the "Tales" series. Halfway through, I have yet to have a "THIS IS AMAZING" moment. Cool read, but it feels... not as good as what came before from Wagner.
I hope it does get much better.
"To give a person an opinion one must first judge well whether that person is of the disposition to receive it or not."
Yamamoto Tsunetomo
---
innerSPACE does whatever I tell them

Posts: 7799
Joined: Mon Jun 18, 2012 6:51:43 am
Valiant fan since: 1991
Favorite character: Aric
Favorite title: Harbinger
Location: On the 7.5th floor of LesterCorp, headed through the back door to John Malkovich's brain.
Oh cool, I'll have to remember to keep an eye out for that magazine! I think I saw Matt post this cover art on his Facebook page at some point earlier in the year - I think it's a new piece he did for this magazine.

I am also not entirely enjoying Odyssey so far - it's got a few good moments here and there (the best bits are the flashbacks to his past on earth), but I'm not really into the idea of GRENDELLL IIIIIN SPAAAAAAAAAAACE. There are clearly some moral points and/or critiques of human nature being made with each encounter, but overall it feels too odd to mix Grendel with generic space opera sci-fi.
---
Chapa Zero in Portuguese translated to English would be Chapa Zero.

Posts: 3680
Joined: Thu Aug 02, 2012 3:06:13 am
Valiant fan since: 2012
Location: Lisboa, Portugal
There's a serious lack of WTFisms in this book, so far. I have no problems with the somehow outlandish premise, but I thought this was going to get crazy and weird as soon as they started hopping from planet to planet... There's still half to come, so, let's hope it turns out being one of those type of stories where the ending will make up for the slow start, if i'm making sense.
"To give a person an opinion one must first judge well whether that person is of the disposition to receive it or not."
Yamamoto Tsunetomo
---
---