Moderators: greg, Daniel Jackson
Nerd Boss

Posts: 3817
Joined: Thu Feb 05, 2004 12:14:07 am
Valiant fan since: 1993
Location: Los Angeles
Magnus #0 VcVSS
In 2004, Bob Layton was auctioning a case of 40 copies of the mail away variant Magnus #0 right here on these boards. I think it was Vault-Keeper who suggested the winner get them signed. I liked the idea and wanted to create something similar to the VVSS books and then distribute them to board members. CKB, who I think was looking for some high grade copies to send to CGC almost had me beat to the high bid (sorry ckb).

Bob and Janet Jackson were kind enough to sign and number the books. Greg made up a nice certificate. The books were offered on the boards and in approx. two weeks had potential new homes. I had hoped that someone else might carry on the VcVSS project but certainly did not anticipated how popular the series would become or how sought after the Magnus #0s would be. These books are some of my favourites. I'm very glad so many projects have come to pass and so many more are planned for the future.
---
Zombies and nightstand nightmares

Posts: 6532
Joined: Wed Feb 04, 2004 8:28:09 pm
Location: down down down to mephisto's cafe
Shadowman #8 VcVSS
Inspired by the great projects I wanted to chip in and make something that my fellow board members could enjoy. I knew that I couldn't do a big dollar book (and by that I mean anything that cost more than a couple bucks a copy) so I started thinking about important but more common books. I think I almost immedietly settled on Shadowman 8. It had everything I wanted, it was cheap and key.
I sent Bob Hall an email and after a bit of convincing about the demand for a signed Valiant book he was glad to help out. Yvel was a bit tougher to track down, but with the help of a fellow board member I got his email and he was quickly on board.
Once I had the creators on board, I placed and order with Mile High and got 50 copies of the books, they were on sale and I think it cost about $90 for all of them.
The empty space on the cover was begging for remarks and I ran the idea by Yvel and Bob and both were awesome and for a small fee agreed to remark all copies.
Inspired by the backing board from the Solar project I asked Bob Hall to create a new image for the project. I gave him a few options. He went with Jack's death. One other I remember was Jack getting revenge on Zero for his treatment in the VH2 series.
This might be the only project that the books were numbered by a creatory. Bob Hall numbered all the books.
Compared to others I've worked on this project was a walk in the park. From concept to books back signed and remarked was, I believe, a little over a month.
Board member Childres was kind enough to provide me with 50 copies of the design sheet for Darque as well as sleeves to hold them.
Watching the board crash and go people post 3 or 4 times to get one was a blast (it's fun when you are not doing the mad posting). For a long time the sign up for this project had the board record for members on line, then the bots came and erased that.
---
Zombies and nightstand nightmares

Posts: 6532
Joined: Wed Feb 04, 2004 8:28:09 pm
Location: down down down to mephisto's cafe
Shadowman 10/ Eternal Warrior 4 VfVSS
After catching my breath from the Shadowman 8 books and enjoying projects from other members, I got the bug again. Convinced that things would go as smoothly as they had on the Shadowman 8 project I wrote Bob and Yvel and asked them if they would be interested in doing another project. Both said yes and I asked them to pick the books. Bob picked Shadowman 10 (first issue he both wrote and drew), Yvel picked Eternal Warrior 4 (his first pro art).
Confident (foolishly) I went ahead and announced the project to the board and added a new twist. Anyone who wanted in could have one. No mad dash to sign up. I had a window for anyone interested to sign up. The deal was that members would prepay and pay for the project costs up front (books, art, remarks, shipping and such).
Feeling the need to top the previous projects (in this case the Ninjak 1 sketch cards) I got Bob and Yvel to do sketches on the backer boards. Again both guys were great. I also wanted to have them jam on a new piece of art for the backer board. Yvel did a killer Eternal Warrior, sent it to Bob who did his usually awesome job on Shadowman. Yvel hooked me up with Joe Rubenstein to ink it. Great stuff if I say so myself.
The problems started when promises from one formerly reliable board member kept failing. The project was stalling and after the NY show in spring of '06 I knew the promised books were not lost in the mail and stated trying to track down piles of the needed Eternal warrior 4's (a tough book, I tell you) I won ebay auctions, and the board was very generous as always and after clawing I had the books.
With just a bit of money left in my budget I had had both Bob and Yvel remark half of their respective books. Yvel went nuts and did them all, hence all the Eternal Warrior books being remarked. The plan had been you would get a sketch board from one and a remark from the other. Instead everyone got a sketch and either one or both books remarked.
Lastly I was lucky to score the VanHooks (Kevin and Carol) to sign the books.
After a process that took much time and cost me much hair, the project was finished. I swore I was done, as much as I loved the board it was too much to undertake ever again.
---
Huh, huh....dude, you said member.

Posts: 3279
Joined: Sat Jan 22, 2005 6:55:58 pm
Valiant fan since: Unity
Favorite writer: Warren Ellis
Location: Central, PA
PSI-LORDS FLAT PROJECT signed by Giordano & Leeke
I discovered a cache of 60+ flats at an LCS and posted a note on the board RE: interest in a project. Daydreams contacted me via PM and by utilizing his prior board project experience & professional contacts spearheaded the efforts and made the project reality (for which he will always have my deepest gratitude!). Zach took care of Mr. Leeke's remittance and I took care of Mr. Giordano's. The cost of each framed flat was $50.00.
From one of Zach's posts:
There will be a run of 50 flats. each flat is signed by mike leeke and dick giordano. in addition, 25 flats are remarked by mr. leeke, and 25 by mr. giordano. each flat and coa will be numbered 1 - 50.

Mr. leeke has remarked each flat using different psi-lord characters, so each flat is a unique piece.

In addition to being signed and remarked, each flat will be framed, matted, and include a glass covering. we wanted these to be able to be displayed and protected.

As before, we created a special edition series of flats, to be presented to those who helped make this project possible, and to raise money for two quality charities. THAT'S RIGHT, I SAID TWO!

2 flats will be auctioned off to raise money for chris and his CFF charity, which we all know has been a staple of this board.

2 more will be auctioned off for the American Cancer Society.
The proceeds from these two were donated in memory of my wife's sister-in-law and one of her best friends, Karen Kelley. Karen passed away from cancer on December 9, 2005 --- 5 days after the project was announced.
4 additional special edition flats went to board members involved in this project
The 8 special edition flats also included a Psi-lords gold with dual signatures & remarks.
The project did not sell out initially and seemed to meet price resistance due to the cost necessary to cover framing. In the end, 40 were framed and 10 were sold w/o framing. The 8 special editions were all framed.
---
Chief of the Dia Tribe

Posts: 22402
Joined: Thu Feb 05, 2004 8:55:24 pm
Looks like Della and Hulk got tired of waiting for my lazy behind.

So, without further ado, I present the
Solar #1 VcVSS
(Pictures will come shortly.)
The manager of this project, Justin Ehart, unfortunately made some very poor life decisions, and as a result, is no longer a member of this board.
So, it has fallen to me to give you my rememberances of this project, so I'll do the best I can.

In roughly September of 2004, after the Magnus #0 VcVSS were all distributed, Justin Ehart (former board member "architect") posted on the board that he would like to do his own project, this time involving Solar #1....and, in a coup, getting renowned comics recluse Barry Windsor Smith (the cover artist), to sign them, and remark a few.
Jim Shooter also agreed to sign the books.
Justin created a sign up, and this time, it took very little time for the books to be "sold out" at a cost of $25 each. The books were, like the Magnus, limited to 40 signed and numbered copies, for which Greg created another COA. As I recall, it took only about 2 days for the signup to be filled, as opposed to the few weeks it took for the Magnus (and would set the stage for the record sign up and board crash that was Shadowman #8, explained above.)
Justin convinced Barry Windsor Smith's assistant that this project was for charity, and BWS agreed to sign the books. The books were shipped to Shooter and signed, then shipped to BWS and signed....this process took considerably longer than the Magnus, and it wasn't until around Feb of 2005 that the books were actually back in Justin's hands and were ready to ship out (though even these details are shrouded in mystery.)
Luckily, at that time, though no one knew the problems that Justin was about to cause, he decided not to pull any funny business with the Solar #1s. They were shipped out, and they were a smash hit. Everybody loved them, especially those that had been remarked by BWS himself.
Justin had promised me a remarked copy, but alas, he promised a lot of people a lot of things that didn't turn out to be true. It turns out that BWS, who was told that the books were being done for charity, agreed to sign them only for that reason, and there is some legitimate doubt as to whether any part of the original sign up fee was given to any charity, unfortunately.

Regardless, Solar #1 VcVSS is and will remain one of my most prized possessions, and is one of the more colorful board projects to date.
---
Just trying to be self-deprecating

Posts: 9711
Joined: Thu Feb 05, 2004 5:05:13 pm
Location: Cheese-Steak Land
Bloodshot #7 VcVSS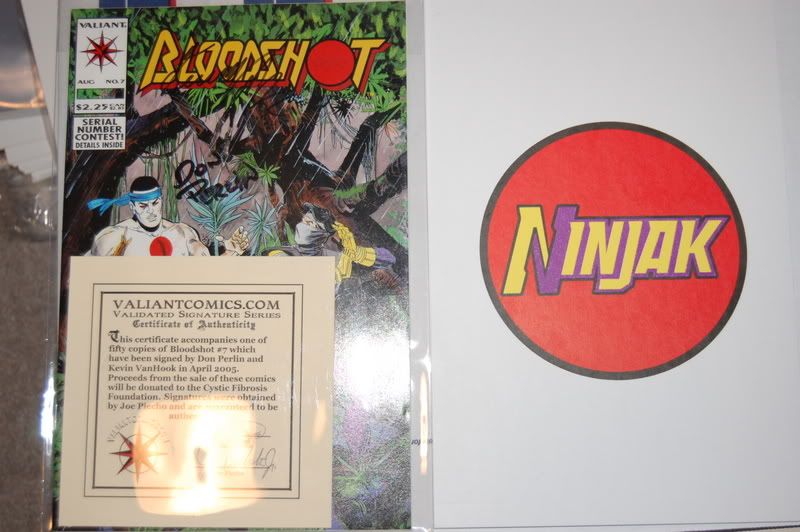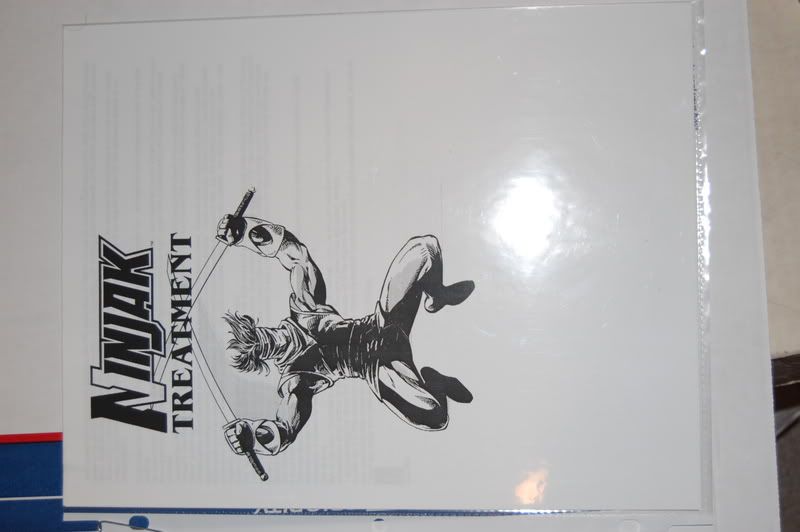 The genesis of this project happened when I went to a local yard sale in Milwaukee, Wisconsin. I often checked the local paper for yard sales that specifically mentioned they had comics for sale in their listings. When I went to one such sale, immediately I knew I was at the home of someone who had been a speculator in the early 90's. He had massive quantities of all the hot books of the day, including a ton of VALIANT. I remember he had at least 50 copies of Bloodshot #0. Among the crap, I found 10 copies of Bloodshot #7, all signed by Kevin Van Hook in black ink. Since they were signed, I made the decision to buy them. I believe the price was .25 each.
Later, once the fan projects started happening, I came up with the idea to do one and to do it using the Bloodshot #7's I already had. This was also around the time Chris S. (Knightt) was starting to do the fundraising here for Cystic Fibrosis. I came up with the idea to do a fan book with the profits going to the CF fund. I approached Knightt about it, who helped to put me in touch with the creators for the signing. Obviously Kevin Van Hook was going to be one of them since his signature was already on 10 of the books. I decided to make the book a complement to the Bloodshot #6 VVSS related book, which was signed by Van Hook and Don Perlin. It made sense since Bloodshot #6 and #7 were a two part story featuring the first appearance of Ninjak.
First, I had to acquire 40 more copies of Bloodshot #7. I picked quite a few of them up locally in Milwaukee and bought a few more from board member ckb, who gave me a good price.
I sent the books out to the creators, who were both great to work with and happy to help with a book for charity. Don Perlin even sent me a short note, which I still have in my possession to this day. While the signing process was underway, I saw at Bob Layton's website that he was posting film treatments of VALIANT characters that he had done during his time with VALIANT. One of them was a Ninjak film treatment, which I felt was a good pick as an addition to the project. I asked Mr. Layton for permission to reproduce the film treatment, which he was happy to let me do.
I was also provided with mylars and acid free backing boards, although I'm embarassed to admit I don't recall who supplied them. It may have been Justin (former member) as he was the person responsible for getting the backing boards silkscreened with the combination Bloodshot/Ninjak logo, which I believe was designed by our good friend, X-O Hobojoe. Again, forgive me if I get the details wrong, I didn't write any of this stuff down and my memory is bad.
I believe I handled the dispersion of these in a different way than was done before. If I recall correctly, I gave those people who had purchased the first fan projects a chance to buy this one first. I believe the remaining copies were distributed using a lottery system which was weighted in some way.
The project itself is one of the most non-frill projects out there. I made the mistake of having both creators sign in black ink, which turned out not to look so great on the dark background of the book. Also, some didn't like the way I numbered them right on the Bloodshot circle in the logo. Also, admittedly the extra item being a printed script wasn't the most creative thing to do. Regardless, I was happy to be able to help raise money for such a good cause, and I believe we raised $1000 for CF with the book.
---
I sell comics, I collect Valiant.

Posts: 25252
Joined: Sun Jun 11, 2006 2:44:48 am
Location: Educating the future of America, or something like that
Turok VFRSS
Here is the original post from the sign up thread.
Elveen wrote:Here it is...... the first

V

aliant

F

ans

R

emarked

S

tupid

S

eries

.

It is a Turok Chrom cutout,..... this is a one-of-a-kind item (

)

It will be remarked by me.

The remarks will be personalized for each memeber that signs up. (I've been taking notes on all you dudes and your posts)

Here is an example.....

Of course it will come with a C.O.A., and here it is......

I presently have 30 Turok chrom. cutouts, but if more are needed the project coordinator, dpluto, has stated that supply WILL meet demand.

Numbering. You can chose any number you might like as long as no number is repeated.

SUPER SPECIAL OFFER!!!!!!!!!!!!!!

depluto wrote:By the way, the first 10 people to sign up will get a bonus remark of my gramps (or a bird, if you prefer).


Cost, including a bag, board and shipping is $1 (just a buck in an envelope) mailed to depluto's house (PM depluto for the address), or $1.50 through paypal to

cnrm@comcast.net

. Foreign country? Better make it $2 or $3 or whatever it costs to mail something over there.

And if there is any money left over after we are done mailing these out depluto will give it to this bum that hangs outside a Target near his house. No bums were harmed in the making of this project.
Now here are my original sketches....

Here is an example of the ultra-rare "Gramps" remark.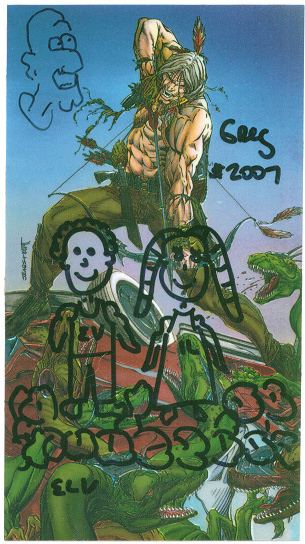 More of the VFRSS examples can be found in this thread.
viewtopic.php?t=15714&postdays=0&postor ... ss&start=0
Thanks for looking.

---
Here's my not so custom custom.

Posts: 3184
Joined: Wed Apr 30, 2008 1:37:38 pm
Location: Houston
Bloodshot Yearbook CF Project
:according to Knight only 3 exist
---
HEY ALL...I'M NEW TO THE SITE AND HAVE KEPT LOW PROFILE

Posts: 3030
Joined: Sun Aug 15, 2004 12:13:37 am
Valiant fan since: inception
Location: New York
Harbinger 1 VfVSS
- Sold October 15, 2006
On Sept. 16 2006 I went to the Big Apple Show, in NY..
I stuck with one dealer who had the following
2 long boxes of pre-unity's and later issues...no high run books.....many solar, x-o, magnus, rai 1's...
countless Rai #2's approx 10 Rai 3's ...looked great until i pulled them out and saw all the left corners looked a bit creased...
about 17 Bloodshot 51's....few last stands...i don't know how many solar 56-60's packed together....a few magnus 64's...
and he then brings me a case which was on the side...he says "oh..I also have these...these are untouched....I opened the case and I think he saw me salivate...I told him I wanted more time to go thru his long boxes trying not to show my amazement as to what i just saw....
he leaves me in the room with the books...I take them to Scott from CGC which is in the next booth and plead with him to please pre-screen and pull out any possible 9.8's...to my amazement after him taking about 1/2 hour of going thru all the books....6 have high possibilities of 9.8 or higher....
here they are in a row....
I called Jim to sign...
I called Janet to sign...
and ofcourse..Bob!..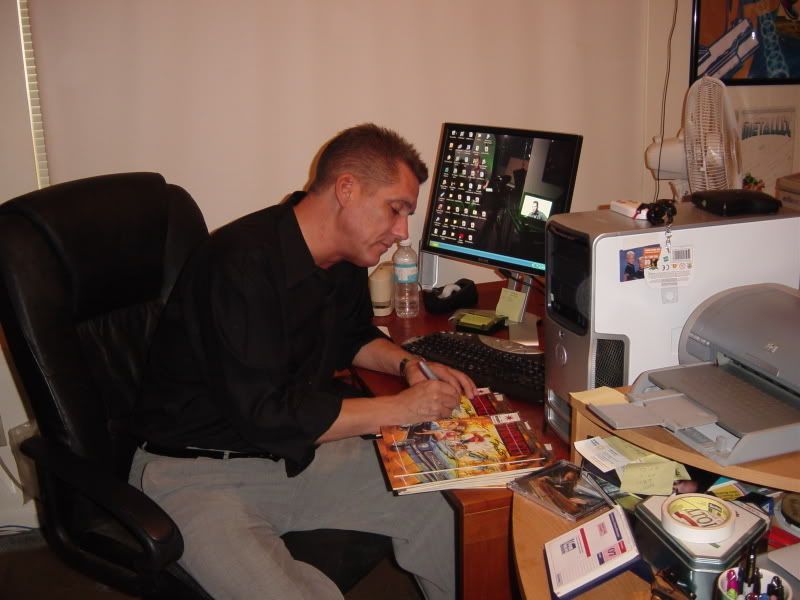 I added a CD and dialogue from 2 of the ValiantFans panels from NY...and a print by Sean, Anthony and Stu Suchit...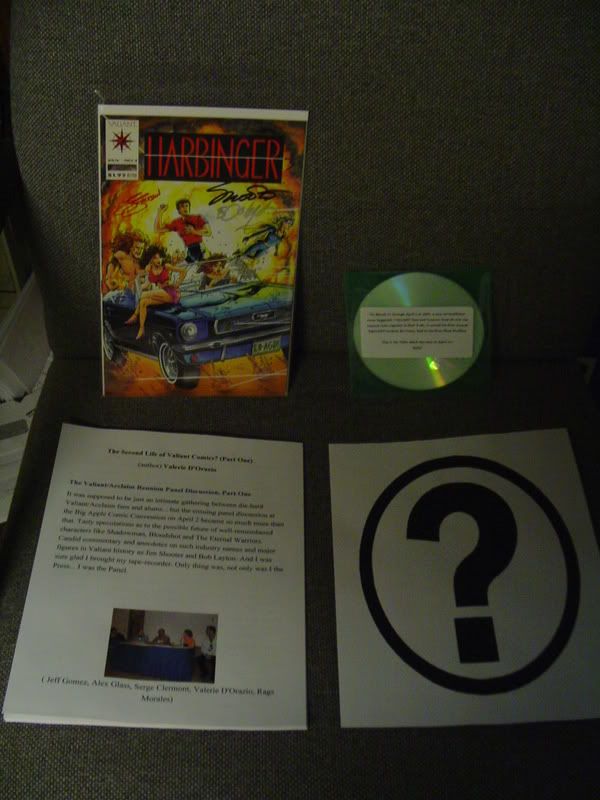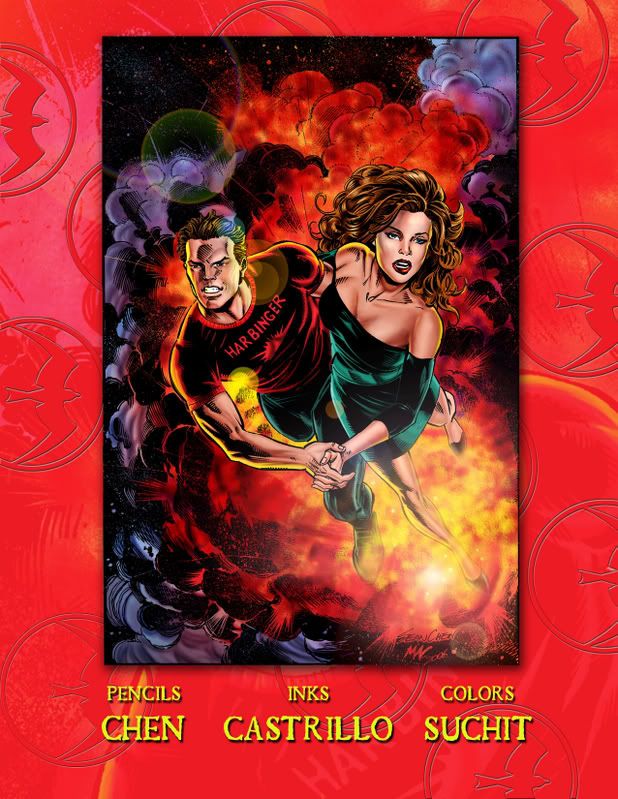 It was definitely fun getting this one together...
---
---