ShadowTuga wrote:
grendeljd wrote:
Got that copy of Forest Of Doom in the mail just before Xmas - in tip top shape (someone had laminated the cover so it was well preserved). Finally had time to open it up, roll my character stats & have a go at it. SOO MUCH FUN. I remember so many of the encounters from back in the day... it was seriously tickling my nostalgia-bone to read through & game it!
Thanks for starting this thread & reminding me to revisit an almost forgotten favourite thing from my youth, 'Tuga!!


Ha, don't mention it, very happy to see another old Allansian finding its way through Darkwood. One hilarious bit about this book in particular (and quite telling of how undeveloped the gaming system still was- this is the first book by Livingstone alone) is that you can play it forever without dying, if you have high stats- and I always do, Skill 11/12 Stamina 22/20 and Luck 10 to give it a bit of challenge; I think that an Allansian adventurer with a rep would not be a Skill 7 guy. That's maybe an Orc skill number

But Luck is luck and since the penalties are often not as bad... I roll with it.
The book asks you if you have both halves of the Hammer in the "finishing line"; if you don't have them, it gives you the OPTION of going back to the beginning and try again instead of good ol' "Your adventure ends here."
Yes!! I made one pass through & only found the head of the hammer - I had forgotten it let you go back through, so long as you Test Your Luck & pass to avoid being killed by the hillmen.


And yeah, I rolled really high on my stats - 12 skill, 20 Stamina & 9 for luck [not great]. Once I started picking up magic items & weapons, the hit roll bonuses got to a point where most of the creatures encountered couldn't match my lowest possible skill/attack rolls. So automatic kills for the most part - still tons of fun regardless.
ShadowTuga wrote:
I love the illustrations on this one, but its the McCaig cover that blew my freaking 10 yo self. I love it so much.
DUDE. That cover was immediately mesmerizing when I first saw it as a kid, and its still as awesome to me now as it was then. LOVE it. I was lucky enough that my mom generally would buy me any book I asked for on the spot when I was a kid - so I got this one right away.

ShadowTuga wrote:
You want to experience a TRUE nostalgia kick then hear me: there's a later book in the series (#50) that is called Return to Firetop Mountain. If you recall, Warlock of the Firetop Mountain is the very first FF book. This sequel is an actual return to the place; you'll find rooms that were filled with Goblins just destroyed and so many other vestiges of the first book. I actually played it for the first time EXACTLY 10 years after the last time I had played WotFM (around 14/15), which is the number of years that have passed in-story. I hold many great memories of that adventure even if I played as an adult. Double nostalgia punch!!!
Oh, thats really cool! I never read/played Warlock Of Firetop Mountain back in the day - that would be fun to get to play through both books.
ShadowTuga wrote:
If you want me to suggest you some more-evolved books of late in the line, just say. I know that everyone loves the early classics, but FF really got better in the dice/gaming bit dept with time, although not kid-friendly at all in that aspect. Some books are literally impossible to finish unless you have maximum stats and just the biggest luck in the world, like Crypt of the Sorcerer (a nightmare to finish) but others rely on more "mature" writing, the lore of the franchise and "mood". These are my fav reads, not counting the nostalgia the early ones will always have. The stuff by Stephen Hand is all TOP. And you have to read Creature of Havoc, the last Steve Jackson (NOT the Munchkin guy, although he did write ONE Fighting Fantasy book- Scorpion Swamp. Its one of those trivia things.) book, I swear it is awesome awesome awesome. And of course, Sorcery! the mini series where you have to memorize spells and can play as 2 different classes.
Cool dude, I'll check out Creature Of Havoc. Let me know all your favourites from the more mature era of the books - I will try to pick one up the odd time as the mood strikes me. I am kinda thinking about tracking down the rest of the SORCERY! books. I haven't gotten into re-reading Shamutanti Hills yet, but the idea of this line is really cool.
ShadowTuga wrote:
I can't find my maps right now but when I do I will post it here, like I said, promise.
And btw, I'll soon send you a copy of one of my books that I have a spare english edition- Phantoms of Fear, it is a great book with great art.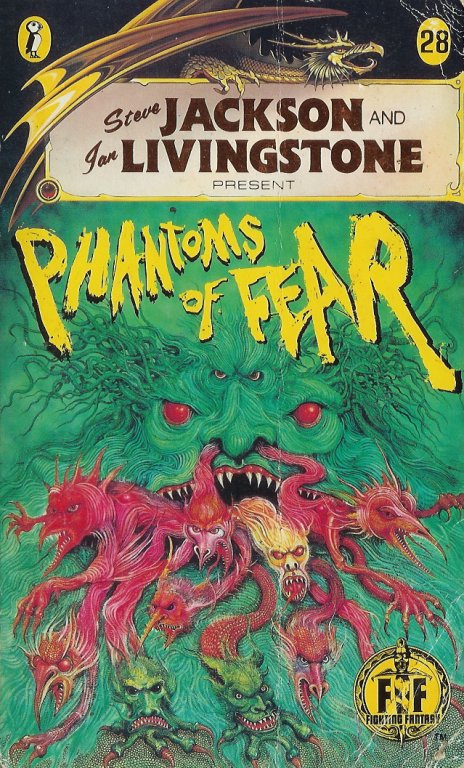 Dude, thats awesome, thanks! That book looks super cool.