Wed Dec 05, 2007 10:14:56 am
These are statues that were released individually but combine to make a display set:
Spider-Man vs The Sinister Six
Bowen Fantastic Four set:
Dark Pheonix set:
Astonishing X-Men vs The Sentinels
VS statues


. . . more to come . . .

Last edited by
siren3-4
on Thu Dec 06, 2007 12:45:29 pm, edited 1 time in total.
Wed Dec 05, 2007 12:05:10 pm
I have the Sinister Six set. It actually comes with two Spider-Man's. The traditional Red and Blue and the Black suit. You can seperate the tall base spidey stands on into two bases. One for each statue.
without the black suit
[img][img]http://i165.photobucket.com/albums/u49/stone384/comic%20room/DSCF0311.jpg[/img][/img]
and with it
[url]
[/url]
sorry for the bad pics. cheap camera

Is that GL/Sinestro statue out yet? It is part of the series with the Superman/Wonder Woman?
also...the Batman/Joker statue is part of the same series
Wed Dec 05, 2007 12:17:22 pm
Thanks for the pics !!

That spidey set really looks nice together . . .

The GL vs Sinestro is an old statue that is pretty hard to find now. It sells between $200 and $300 when it does come up for auction . .
Wed Dec 05, 2007 12:26:45 pm
I really like the Spiderman vs the Sinister Six, also a very cool idea being able to switch Spideys like that.
Wed Dec 05, 2007 2:35:43 pm
The Electro statue is the hardest to find and fetches $150 on ebay now. I think they were all originally around $75 new.
Wed Dec 05, 2007 2:55:01 pm
They were $85 ea. new. The black suit spidey came with the sandman for no extra charge.

m
Mon Mar 24, 2008 1:24:09 pm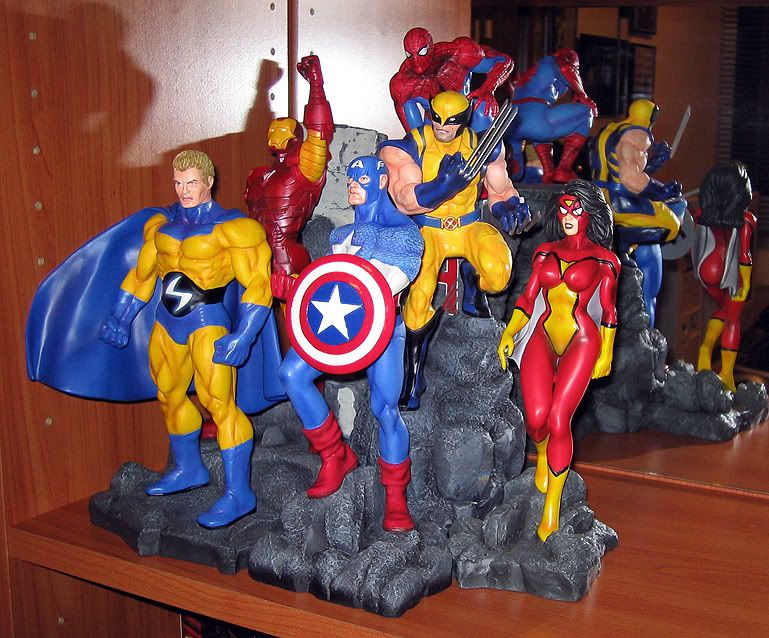 New Avengers statue set . . .
Mon Mar 24, 2008 3:34:01 pm
i wanted those sinister six statues til i saw the price. i was looking at them as they came out.
i really want the mysterio one pretty bad.
looking for the mysterio bust that isnt that expensive that came out ages ago!
Tue Apr 15, 2008 11:25:19 am
Just announced . . Superman vs Darkseid
Tue Apr 15, 2008 11:30:09 am
Darkseid: another tough dude in a miniskirt.
Tue Apr 15, 2008 1:18:26 pm
Way cool, wouldn't mind having that one.
Tue Apr 15, 2008 1:47:18 pm
That "Astonishing" Colussus would make a great Bloodshot, after a bit of spackling.
Fri Dec 12, 2008 7:51:34 am
Blade vs Dracula dio
Product Size:
17" H (431.8mm) x 16" W (406.4mm) x 15" D (381mm)*
Product Weight:
17.00 lbs (7.71 kg)*
Planet Hulk: Green Scar vs Silver Savage statue
Product Size:
15" H (381mm) x 12" W (304.8mm) x 18" L (457.2mm)*
Product Weight:
12.00 lbs (5.44 kg)*
Regular and Exclusive version
Wed Dec 17, 2008 7:49:17 am
I have the dark Phoenix set
Wed Dec 17, 2008 4:11:34 pm
I love that Thor vs Loki statue
Sat Sep 05, 2009 10:30:50 am
Exclusive comes with 2 different versions of Iron Man. Both versions come with the Namor Trident option.