Moderators: greg, Daniel Jackson
Harbinger rank: Ichinensei

Posts: 35
Joined: Thu May 16, 2013 10:03:39 pm
Valiant fan since: 2012
Favorite character: Faith
Favorite title: Harbinger
Favorite writer: Joshua Dysart
Location: Texas, USA
Hey, everybody - been a lot of years since I've made a post here, as what little internet interaction I do these days is usually on Facebook, but I wanted to make sure everyone had a shot at this. I work at Ground Zero Comics in Tyler TX, and a few weeks ago, we had Jason David Frank come and do a "socially distanced signing" at the shop. He's touring all over the place right now doing shop signings, essentially trying to make up for the lack of convention income for him, but also simultaneously helping out shops that desperately need it right now. When he was out, he was very impressed by the amount of Valiant stuff we had up in the shop - one of the highlights of the day for me was getting him to sign the Bloodshot Salvation standee we have mounted up on the wall.
As a result of this, he also decided to send us a few of this book.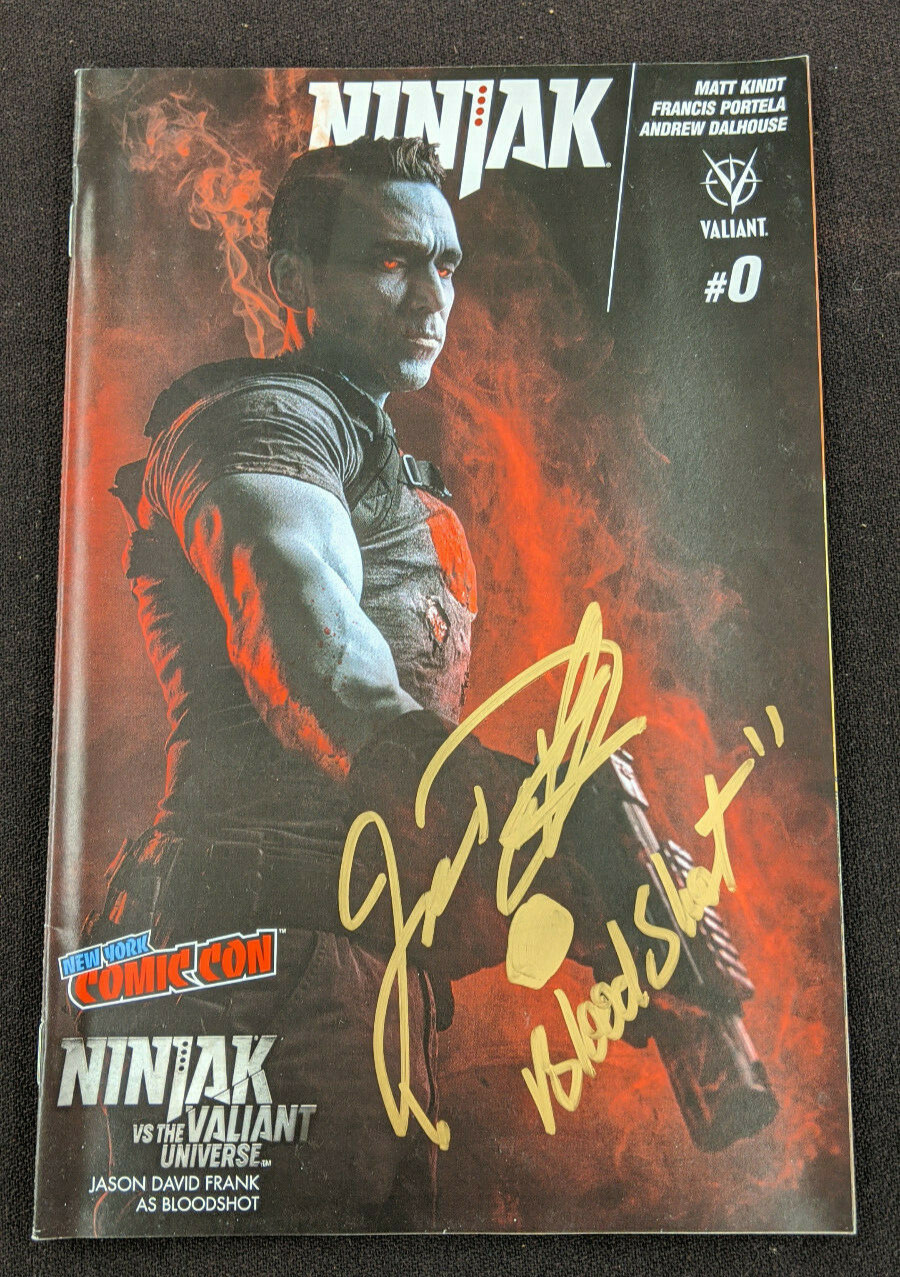 I'm not much of a variant-chaser, so I didn't know the story behind this one. When JDF told me it was never released, I figured it would be like a lot of these things - ok, so it wasn't actually released at the con, but then a lot of them still ended up in people's hands, and they're on the secondary market, but from the research I've done so far, this doesn't seem to be the case. I know some people will be eager to get their hands on these, so as I list them, I'll post them both here and on the FB group. Now, these were shipped to us pretty tightly, so they all have some degree of corner wear or minor dings, and they are all signed - I know people often want to get unsigned for CGC purposes - I'm not a CGC guy, either, so it's just not something I thought to ask him. I've taken photos of each of the corners, the back cover, and a close-up of the sig that you can find on the auction page - just let me know if there's any other photos anybody would like.
Link to ebay auction page
The early bird gets the worm, but the second mouse gets the cheese.
---
5318008

Posts: 579
Joined: Thu Mar 18, 2004 8:52:22 pm
That is a great book and someone will be a lucky to put it in their collection but are you sure that JDF is not getting it confused with this cover:
3-10 known copies - Ninjak #0 (vs the Valiant Universe cover - NYCC Unreleased Edition) - Supposedly all copies were destroyed.
You can search on the board there is a thread about how its distribution was shut down right before the event was to start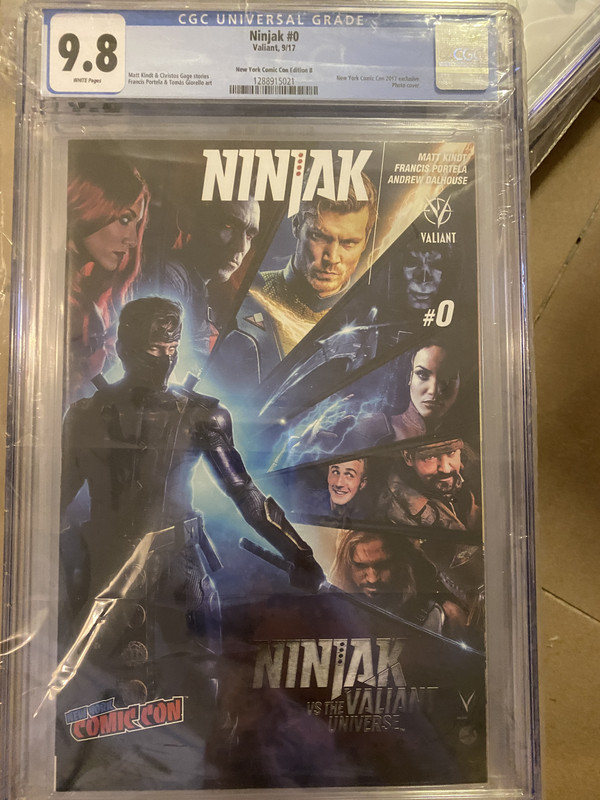 The one you have up for auction is much more common
---
Harbinger rank: Ichinensei

Posts: 35
Joined: Thu May 16, 2013 10:03:39 pm
Valiant fan since: 2012
Favorite character: Faith
Favorite title: Harbinger
Favorite writer: Joshua Dysart
Location: Texas, USA
I'm totally open to being wrong on this, but I don't think so, based on what I've seen. I've been looking for the past week or so for any indication that any of these had made it out into the wild to try and get some idea of pricing (I normally dislike using ebay and doing auctions, prefer to set a price and stick to it), but I couldn't find any kind of pricing data for it, and the only direct reference to it I could find to it on this forum was this post -
kjjohanson

wrote:

↑

Tue Apr 02, 2019 6:21:47 pm

michalward wrote:Yep those are them, thanks. Does anyone know if both were unreleased/equally as rare?

Neither was released at the convention. I imagine that they were printed in equal numbers, but I doubt anyone can say for sure just how many made it out.
All that combined with JDF telling me that these got C&D'd, so he's just been sitting on them for a few years, not sure what to do with them has me thinking they're probably reasonably hard to come by.
But, again, I'd be genuinely curious to see where a bunch of these had been made available at some point. This has been a fascinating deep dive to try and do, and I'm at the point where I just really want to know more of the story on these.
The early bird gets the worm, but the second mouse gets the cheese.
---
5318008

Posts: 579
Joined: Thu Mar 18, 2004 8:52:22 pm
This is what a seller on eBay wrote about the Ninjak 0 cover G book that I posted:
"One copy of NINJAK #0 New York Comic Con Ninjak Versus The Valiant Universe variant published by Valiant Comics. This is the rarest cover from this issue. This books is very, very rare and never comes up for sale. There are estimated to be only 25 copies or less in existence. The book was meant to given out at NYCC in 2017 but Valiant's Chinese investors blocked it so they could further their plans for a hostile takeover. I got a few copies from the booth on the first day of the show before they were blocked from release."
Valiant's original intention for the two books we are talking about is here:
http://valiantentertainment.com/2017/09 ... -con-2017/
It is a crazy small sample size but CGC has graded 1 copy of the Ninjak photo cover and 4 copies of the bloodshot photo cover of Ninjak 0 (including signature series).
http://cgcdata.com/cgc/search/title/:Ni ... us/200901/
Also small data size but the bloodshot cover has shown up on the boards before but I have never seen Ninjak cover for sale.
In any event both covers are super rare and they are both very cool books that any collector would be lucky to have in their collections. I would like to own both of them.
---
---