He sold a couple of them at one time auction style on the board.
here
and
here
dellamorte wrote:
The legendary Solar 10 third print white cover. Same guts as the VfVSS extra book. Only 5 copies and the last I'm ever letting out of my hands. I'll do this auction style starting at $1 and let it run until 7 days from list time. Winner, if there is one pays $5 to ship it. Good luck.
**Current High Bid $150**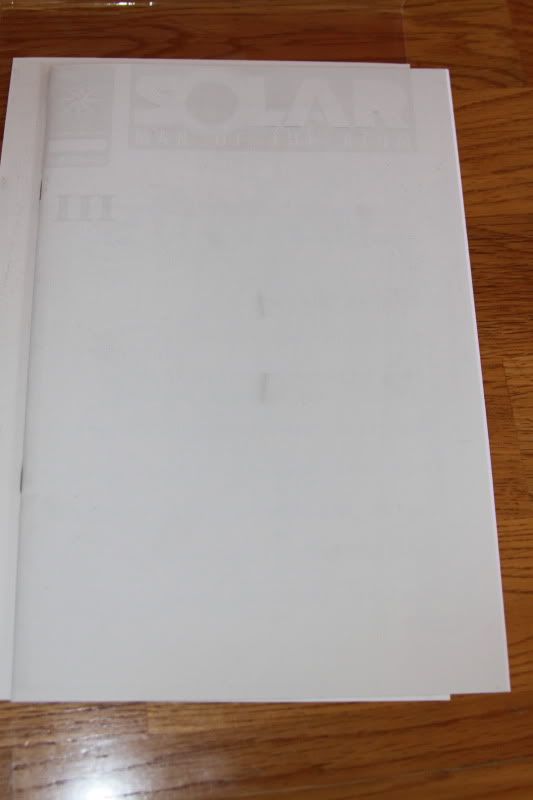 dellamorte wrote:
FormerReader wrote:
Not to take from the bidding, but can anyone explain to me what this issues is. I've only heard of the black cover. What made this issue so special?
When we put the Solar 10 VfVSS project together we made an extra book to go along with it. The new book had a new cover drawn by Don Perlin and colored by JayJay with a back cover by Christopher Schons. Inside the book had Don's uninked pencils to Solar 10 along with exclusive interviews with Jim Shooter and Don Perlin. That's the guts of the book.
As for the white cover, once upon a time someone claimed they had a white cover version of Solar 10 (perhaps someone can link this thread if it even still exits). Somehow when the VfVSS extra books were made a few copies came out with white covers and a third printing on the cover.
I hope that answers the question without raising too many more.
dellamorte wrote:
caxiotis wrote:
so whats the deal with the solar 10 white 3rd print. I didn't receive one with my books.
Whites are the holy grail of Valiant goodness. No one got a copy of the white with there books so don't feel bad.
I've been playing with some ideas of what to do with these books. Still not sure but I'll let you all know when I figure it out.
So from my understanding there are only 5 in existence. He sold 2 to and still has 3.